Tenleytown Main Street is bringing holiday cheer to our neighborhood with the 9th annual Tenley WinterFest. The festival begins Friday, November 27, and continues through Saturday, December 5.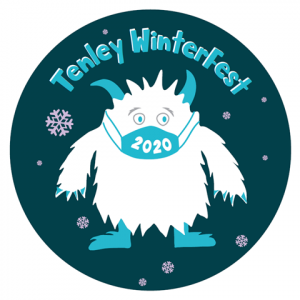 Join us to support local merchants and restaurants and celebrate the season with your friends and neighbors – all at a safe social distance. And really, couldn't we all use a little more cheer this year? So let's get ready for the Yeti!
Winter Feast
Dining specials and discounts at more than a dozen Tenleytown restaurants, including: Angelico Pizzeria, Bullfrog Bagels, Cafe of India, Coffee Nature, Confetti Play Cafe, Le Chat Noir, Masala Art, Matisse, Nando's PERi-PERi, Rome Pizza & Sub, SEOULSPICE, Spring Garden, Surfside, and Tartufo. Dine-in or carry-out, whichever you prefer.
Yeti Scavenger Hunt
This year's hunt will take teams to spots throughout the neighborhood to complete tasks to earn points and prizes from Tenleytown businesses. All tasks can be completed outdoors or at a safe social distance. It's everything you love about our traditional Yeti Hunt, but even better. Info on team registration, rules, and this year's amazing prizes is available here.
Virtual Yeti Marketplace
While we're not holding our live Winter Market this year, you can still shop with some of your favorite Winter Market vendors online. The marketplace features jewelry, home decor, beauty, seasonal, and other gifts perfect for everyone on your list this holiday season.
Tenley Gets Lit!
Lit up, that is, with festive storefront window displays at local businesses. Plan to view them all with this map of participating businesses. And tune in to TMS' social media on Small Business Saturday, Nov. 28, to learn who wins our annual decorating contest.
Tours of Historic Tenleytown
Learn about the history of Armesleigh Park, an early 20th century suburb within Tenleytown; find out the origin of Tenleytown's many other sub-neighborhoods; and tour the historic St. Ann's church. Follow tours virtually on your computer or use your mobile device for a self-guided in-person tour. Learn more here.
Plus tree and greenery sales benefiting local schools and BSA troops, as well as arts and crafts for the kids at the Tenley-Friendship Library. You can even purchase limited-edition Tenley WinterFest merchandise, including shirts, face masks, and coffee tumblers, to benefit local businesses.
All events are free and everyone is welcome! To learn more about this year's Tenley WinterFest events, visit www.tenleywinterfest.org
---
Thank you to our event sponsors the DC Department of Small and Local Business Development and the American University. Additional support generously provided by Rina Kunk – Compass, Wendy Messenger – Compass, and the William R. Singleton Hope Lebanon Lodge #7.