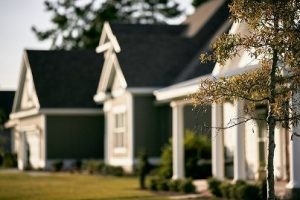 Americans looking to buy a home have struggled with bidding wars and a limited number of houses for sale. But one area of the cutthroat real estate landscape is improving: the luxury segment, where listings are up and homes are selling at a rapid clip. The demand is so great that even "white elephants" – high-end homes that sat on the market for months before the pandemic – are selling quickly as owners willingly splurge on remodeling projects to spruce them up.
Since the start of the pandemic, homeowners have put more weight on their outdoor spaces. Even with things reopening, the start of a summer is a great time to invest in your home's outdoor space, whether it be your backyard, front yard, balcony, deck, or lawn space.
Create Privacy: The key to truly relaxing in your outdoor oasis is a sense of privacy. Consider fencing, outdoor screening or trellis, hedges, curtains, or large planters to shield your space and create a sense of privacy.
Comfort is Key: Just like at a resort, your outdoor escape should include comfortable seating. Find lounge chairs, chaises, and hammocks that work for your space.
Celebrate Past Sunset: Vacation doesn't end when the sun goes down. Light up your space with candles and fun string lights. Warm lighting provides major ambiance during summer nights.
Create Ambiance with Plants and Accessories: Give your space a makeover that reminds you of your favorite vacation spot. Love desert-style? Decorate with southwest prints and cacti. Sunny islands more your vibe? Go for bold prints and tropical plants like traveler palms.
Add Some Fun: Every outdoor space should offer at least one fun feature. Depending on your needs, you could add an oversized outdoor game for the family, play equipment for the kids, a hot tub for the adults, a blow-up movie screen for feature films, or a fire pit for gathering, lounging, and roasting s'mores. Adding one or more of these fun touches will make your outdoor space feel like your own personal outdoor oasis.
Wendy Messenger at Compass is always happy to provide a home evaluation or provide insight into what the market trends mean for you. Reach out to subscribe to Wendy's monthly market updates or let her know if you have any questions about local real estate. Contact her at wendy.messenger@compass.com.
---
The Real Estate Corner is sponsored by Wendy Messenger – Compass.