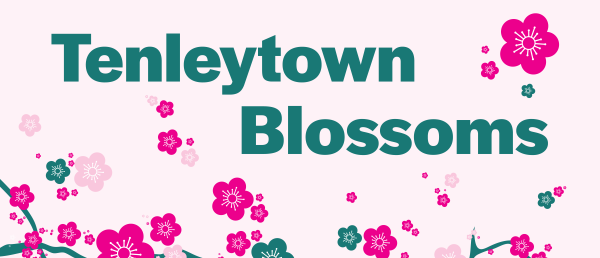 Make Your Storefront Bloom this Spring with Tenleytown Blossoms
During the 2023 National Cherry Blossom Festival (NCBF) March 20 – April 16
Tenleytown Main Street wants to pink up our business district and bring some green to your cash registers with Tenleytown Blossoms, our local celebration of the National Cherry Blossom Festival (NCBF). Tenleytown businesses can join the annual citywide festival and also participate in local events throughout the month. Gain valuable exposure and foot traffic by taking part in:
Cherry Picks
Restaurants feature a springtime menu item, whether it be a cocktail, dish, or dessert. New this year, the Festival is partnering with the Goosechase App for the inaugural Cherry Hunt, a gamified engagement experience for Festival attendees who can document their Cherry Picks journey for points and a chance to win prizes. This year's festival offers a different culinary theme each week:
March 20-25 – Delightful Drinks Festive libations, cocktails and mocktails

April 2-8 – Fresh Foodie Appetizers and main courses

April 9-16 – Decadent Desserts Festive delicacies
Participating restaurants must provide three $50 gift certificates for fundraising, promotional, or publicity purposes for the NCBF. NCBF will promote your restaurant and dish on the citywide festival website, social media, official festival guide, press kit, and list the promotion on the Goosechase app as a Cherry Hunt mission. TMS will amplify that promotion locally through our own digital media channels.
Click here to sign up. Deadline to register is February 17.
City in Bloom
Go big with an over-the-top spring window display or simply add some springtime pink – anything goes! Decorate your window in any spring theme; TMS will gift you a set of official Cherry Blossom window decals to help you along. NCBF will feature participating businesses on the festival website and emails, and TMS will highlight you on our website, digital guide, map, and digital marketing campaign.
Click here to sign up; TMS will register you with NCBF. Deadline to register with TMS and receive FREE window decals is February 13.
BONUS! Tenleytown businesses that sign up for City in Bloom will also be eligible to win a prize from TMS to help you spruce up your business for spring. For more details, contact Elise Plonski at eplonski@tenleytownmainstreet.org or 202-362-1815.
For NCBF specific questions, contact TaKeyia Dickens at tdickens@ncbfdc.org or 202-638-8372.