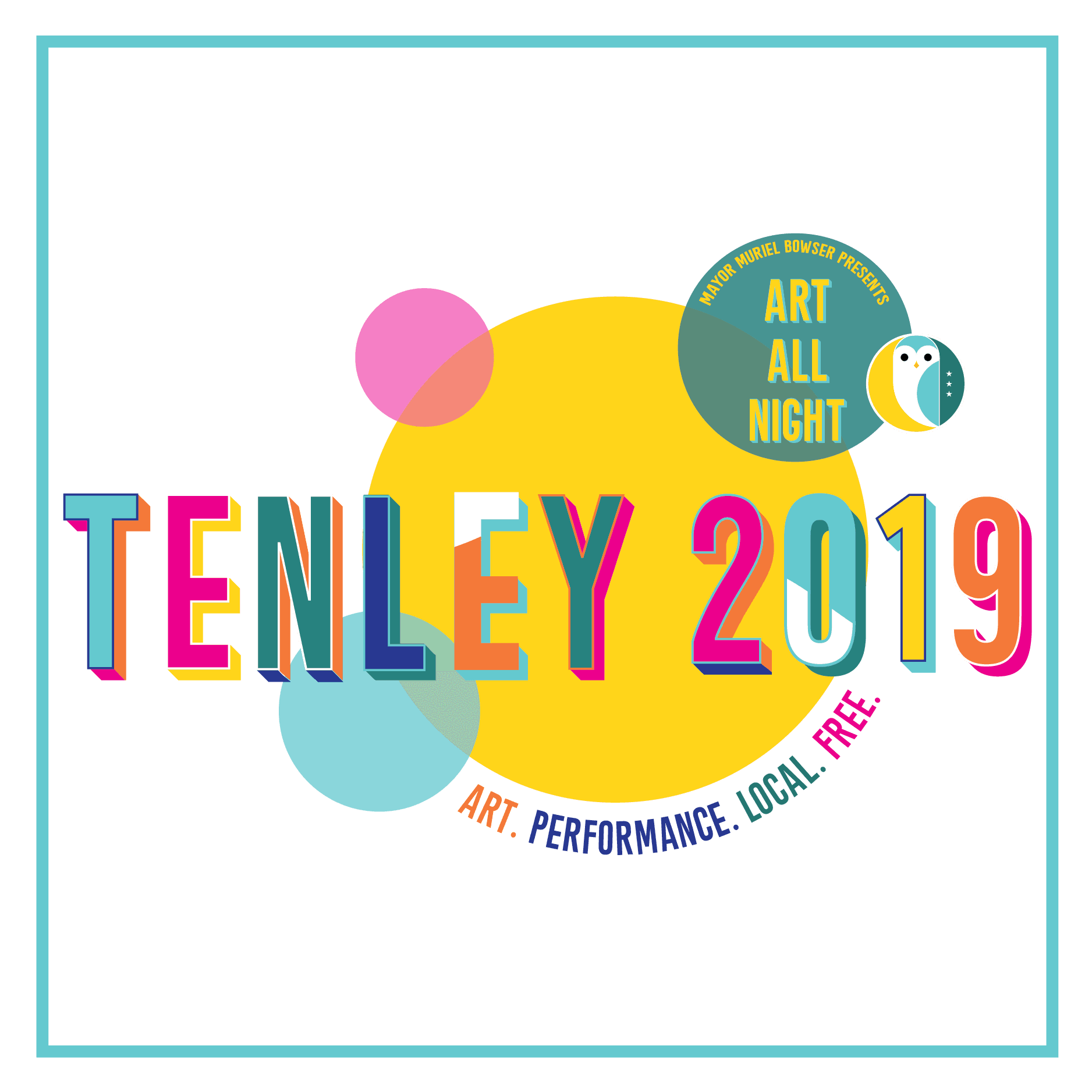 Details
Date:

Saturday, September 14th, 2019

Time:

7:00 PM - 11:59 PM

Cost:

FREE



Organizer

Tenleytown Main Street

The annual Art All Night festival celebrates the visual and performing arts, showcasing the diverse talents of the city's creative community. Public and private spaces along Wisconsin Avenue transform into pop-up galleries and performance stages for an evening of art in all its forms. And the best part? It's all FREE!
Last year, nearly 13,000 festival attendees enjoyed exhibits, performances, and interactive art experiences in Tenleytown. And this year promises to be even bigger, better, and more diverse with 200+ artists and performers featured at 19 venues. Join us for art, music, dance, theater, and more! There's something for art lovers of all ages and backgrounds to enjoy in Tenleytown.
Click the SCHEDULE tab above for all the details on Art All Night 2019 - Saturday, September 14
.
And check out the video below for a sampling of art and performances from Art All Night 2018.
---
Art All Night is presented by Mayor Muriel Bowser and the DC Department of Small and Local Business Development in partnership with Tenleytown Main Street, Destination Congress Heights, Historic Dupont Circle Main Streets, H Street Main Street, Minnesota Avenue Main Street, North Capitol Street Main Street, Shaw Main Streets, and Ward 7 Business Partnership, with support from the DC Commission on the Arts & Humanities.
Click the Venues below for information on artists, performances, and more at each location.
Check back often as events and exhibits updated regularly
And scroll down for general event information, including transportation, our Top Shelf drink program, and a FREE raffle for a chance to win prizes from local businesses.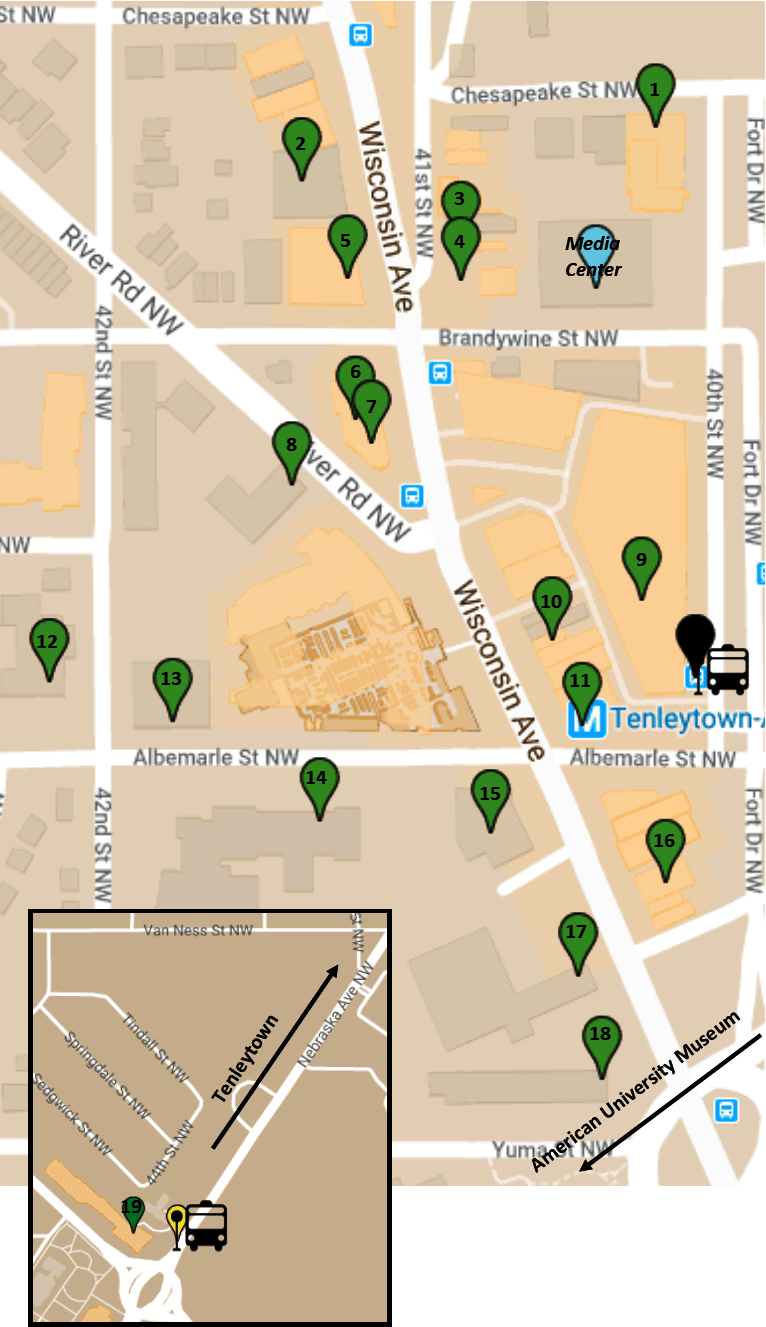 ---
General Event Information
Tenleytown Main Street kicks off Art All Night with a special performance of music and dance at the Top of the Town as we celebrate everything that makes Tenleytown the place you want to be! Join us at the Art All Night Welcome Center (Wisconsin Ave & Brandywine Street) at 7:00 p.m.
Batala and City Dance POP! will deliver a high-energy performance featuring drums and a dance routine from the hit movie, The Greatest Showman! Afterwards, take a walk around the town and enjoy art, music, dance, poetry, theater, and more at 19 venues throughout the night. Be sure to look for Instagrammable moments throughout the neighborhood and post using the hashtags #artallnight2019 and #lovetenley.
Select programming highlights include:
The Art of a Woman: celebrating women makers and creators and the depiction of the feminine in diverse art forms

Art in DC/DC in Art: a vibrant, eclectic curation – just like the arts in DC – featuring depictions of the District in art and select artists who have shaped the local arts scene in a variety of ways

Outdoor silent disco brought to you by Hushed, Inc. – The Silent Experience. Come dance the night away 'til midnight.

An art market with jewelry, textiles, pottery, ceramics, and more

A pop-up comedy club featuring up and coming DC comedians. Stand-up sets are interspersed with comedic games and audience participation – prepare to laugh 'til your sides split.

Timeslips Story Space where you will be welcomed to join facilitated group storytelling that is open to joyful, playful, fun, imaginative engagement.

A bluegrass showcase, featuring Nashville recording artists

Plus more than a dozen other live bands and musical acts
---
Welcome Center: The Tenleytown Art All Night Welcome Center is located at 4601 41st St., NW (intersection of Wisconsin Ave. and Brandywine St.). Pick up the FREE Tenleytown Guidebook featuring a schedule and map of Art All Night events, as well as special promotions and discounts at area shops and restaurants. For our over-21 guests, Top Shelf wristbands, which give you access to cocktail, wine, and beer tastings, will be available for purchase.
Top Shelf: Back by popular demand, Top Shelf features special tastings at select Tenleytown art and performance venues. Sample cocktails, wine, and beer at five curated locations. Purchase a Top Shelf wristband in advance online or at the Welcome Center during Art All Night to enjoy these special beverage offerings.
Win Prizes from Tenleytown Businesses: Visit 12 Art All Night venues in Tenleytown and be entered into a raffle to win prizes, valued $50-$1,500, from local businesses. Make sure to get your Guidebook map punched at each venue you visit - we help get you started by giving you two free punches. There is no cost to enter the raffle; simply bring your completed map back to the Welcome Center before 11:45 p.m. Winners announced after Art All Night.
Transportation:  Art All Night in Tenleytown is accessible via Metro on the Red Line. The American University will also provide free shuttle service between the Tenleytown-AU Metro Station (Red Line) and Katzen Arts Center every 15 minutes. Look for Art All Night signs marking the shuttle stops. Free event parking is available at the National Presbyterian Church, 4101 Nebraska Ave, from 7 p.m. to midnight.
Media inquiries about Art All Night 2019 in Tenleytown can be directed to Leigh Catherine Miles, Executive Director, Tenleytown Main Street at lcmiles@tenleytownmainstreet.org or 202-362-1815.
During the event, TMS will host a media center at Two Birds, 4001 Brandywine St. NW from 6-8 pm. Members of the press who wish to find out more information about this year's Art All Night artists, performers, venues or Tenleytown Main Street can visit this location. Media kits, refreshments, and a special exhibit available. Enter through the main building double doors, to the left of the Two Birds entrance, and take the elevator to the Two Birds' co-working space. After 8 p.m., please visit the Welcome Center.
---
2019
The best things to see, drink and do in the D.C. area in September, The Washington Post
An overnight art festival will pop up across D.C. September 14, Curbed DC
Business in Brief: The media stars at the Van Ness farmers market; Art under the stars in Tenleytown, Forest Hills Connection
Explore the best of Washington, DC – for free!, Femina
"Art All Night" Returns to Tenleytown, September 14, AU in the Neighborhood
Weekend Round Up September 12, 2019, The Georgetowner
Art All Night artistically takes over Wisconsin Avenue, The Eagle
2018
Art All Night lights up D.C. neighborhoods with live performances, art markets, GW Hatchet
AU Photo Collective will feature student work in Art All Night Tenleytown event, The Eagle Online
14 things to do around D.C. in September, from street festivals to Art All Night, The Washington Post
10 of the best night-time festivals this autumn, The Guardian
Enjoy local artists, performers, food and drink Saturday at Tenleytown Main Street's Art All Night event, Forest Hills Connection
"Art All Night" Returns To Tenleytown, September 29, AU in the Neighborhood
Art All Night will be in 8 Neighborhoods this year – September 29th!!, PoPville
Be a part of Art All Night 2019 and help make the arts come alive in Tenleytown! Click here to volunteer.
Art All Night could never take place without the help of incredible volunteers. To make the festival a great success, Tenleytown Main Street depends on local assistance of 40 - 50 amazing people with great personalities and a love for the community!  Our night-of volunteers are among our most crucial roles as they provide support to our talented local artists and help festival goers enjoy all Art All Night has to offer. With multiple shifts available, you can volunteer and then explore Art All Night for the rest of the evening. All volunteers receive a FREE t-shirt as a thank you gift, and get to work with a fun, creative team.
Volunteers for Art All Night will be the first contact for many of the 13,000+ patrons expected to attend the event. Their critical role will be to welcome participants /patrons and to foster a spirit of helpfulness and hospitality. Help make Art All Night a positive and memorable experience for everyone involved - come join our volunteer team! Find out more and sign up online.
Email info@tenleytownmainstreet.org or call 202-362-1815 for more information on becoming a member of the Art All Night team.
Thank you to our generous sponsors for their support of Art All Night 2019!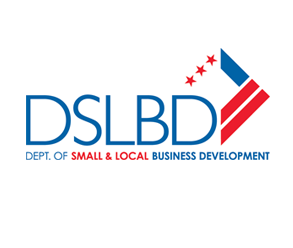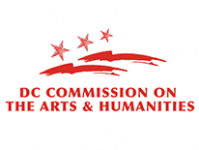 Gold Sponsors
Silver Sponsors
Art & Performance Venue Sponsors
Partners