Get Fit at Fessenden 2021
Price : $15.00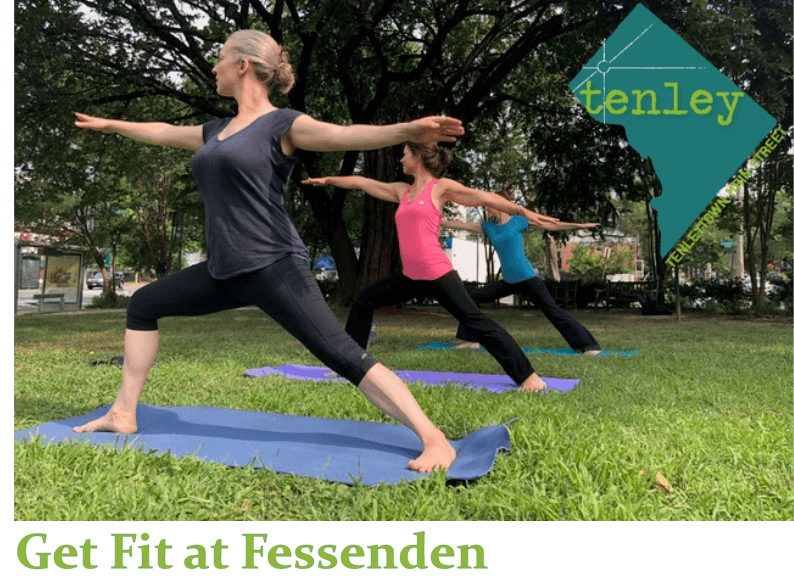 Details
Start:

Saturday, May 22nd, 2021

End:

Saturday, July 31st, 2021

Days:

Sat

Time:

9:00 AM - 10:00 AM

Cost:

$15.00
Venue
Fessenden Park
Fessenden Park, Wisconsin Ave. & Fessenden St.
Washington, DC, 20016
Phone:
Join friends and neighbors for low-impact fitness classes at Fessenden Park every Saturday morning at 9 a.m. These all ages and all abilities classes are taught by instructors from Tenleytown fitness studios, including the Center for Mindful Living, CityDance POP!, Club Pilates, Haute Bodhi, JTR Jujutsu, and the Washington Yoga Center. Mix up your fitness routine, try a new class each week, and enjoy health and wellness in our community.

All fitness levels welcomed. Each class is just $15, with all proceeds benefiting programming and maintenance at Fessenden Park. Pre-registration required and space is limited. Click the Schedule tab above for a listing of this season's Get Fit at Fessenden classes and links to register.
Get Fit at Fessenden is presented by the Friends of Fessenden Park, an all volunteer committee of Tenleytown Main Street that seeks to revitalize the park as a community gathering place for all ages. Tenleytown Main Street is an official park partner of the DC Department of Parks and Recreation.
---
Getting to the park
Fessenden Park is bounded by Wisconsin Avenue, Fessenden St., and 42nd St. The park is equidistance from either the Tenleytown-AU Metro station or the Friendship Heights station, and is located on multiple Metro Bus lines. A Capital Bikeshare station is located at Fessenden Street and Wisconsin Avenue, next to Citibank. Metered street parking is also available.


Inclement weather policy
In the case of rain, the class will be canceled. Registrants will receive credit for a future Get Fit at Fessenden class at the park.


COVID-protocols
Students will be required to self-certify that they are not experiencing any COVID-related symptoms. During registration, students will be required to provide contact information for purposes of contact tracing; contact information will be verified on the day of the class. Students will be spaced 6 to 10 feet apart and will be required to wear face masks when not actively engaged in exercising. Hand sanitizer will be provided, as well as masks for those who do not bring their own. Protocols are subject to change based upon current public health guidance established by the DC Department of Health. By registering for a class, students agree to abide by protocols in place and to hold harmless Tenleytown Main Street, participating fitness studios, and their instructors.
There is a $15 registration fee for each class. All proceeds support programming and maintenance of the park by Tenleytown Main Street and the Friends of Fessenden Park. Please bring a mat, water, and face mask with you.
---
2021 Get Fit at Fessenden Class Schedule
UPCOMING
July 31, 9 am: Barre with CityDance POP!
Join Lauren DeVera for a 45-min Barre class - movement inspired by elements of ballet, yoga, and Pilates. Building our balance and endurance to a beat bumping playlist, designed to strengthen your body in ways that few other workouts can! Register Now
PREVIOUS CLASSES
May 22, 9 am: Yoga with Washington Yoga Center
This all levels class incorporates vinyasa yoga as well as attention to alignment and technique. Modifications and amplifications are given allowing the students to choose a more beginning or a more advanced practice according to their needs. Progressive, safe growth will always be emphasized.
---
May 29: No class. Memorial Day weekend.
---
June 5, 9 am: Mat Pilates with Club Pilates
Mat Pilates is a strengthening and lengthening form of exercise that focuses on your core muscles while also training your arms and legs.
---
June 12: Illumination Qi Gong and Meditation with Adam Omkara - POSTPONED TO JULY 10 DUE TO WEATHER
---
June 19, 9 am: Martial Arts Movement with JTR Jujutsu International
JTR Jujutsu International will challenge you to control your mind, strengthen your body, and develop the spirit thru martial arts movements. This fun class is for all ages and offers the opportunity to learn more about yourself and get a great workout. No prior martial arts experience needed!
---
June 26, 9 am: Barre with CityDance POP! - POSTPONED TO JULY 31 DUE TO WEATHER
---
July 3: No class. Independence Day weekend.
---
July 10: Illumination Qi Gong and Meditation with Adam Omkara
Qi Gong is a form of movement, in combination with using the mind to create intention, to cultivate more Chi. Qi Gong positively affects the balance and flow of our energy, and enhances health and functionality of the body and the mind. This class is family friendly and for all-ages.
---
July 17, 9 am: Yoga with Maggie Doctors of Haute Bodhi
Join Haute Bodhi for a challenging yet fun flow that will get you just outside your comfort zone with new twists on classic Hatha Yoga postures. You'll increase the range of motion in all your major joints with gentle fascial stretch periodically worked into the flow. This class is perfect for beginners and seasoned practitioners alike!
---
July 24: No class