Get Fit at Fessenden 2022
Price : $15.00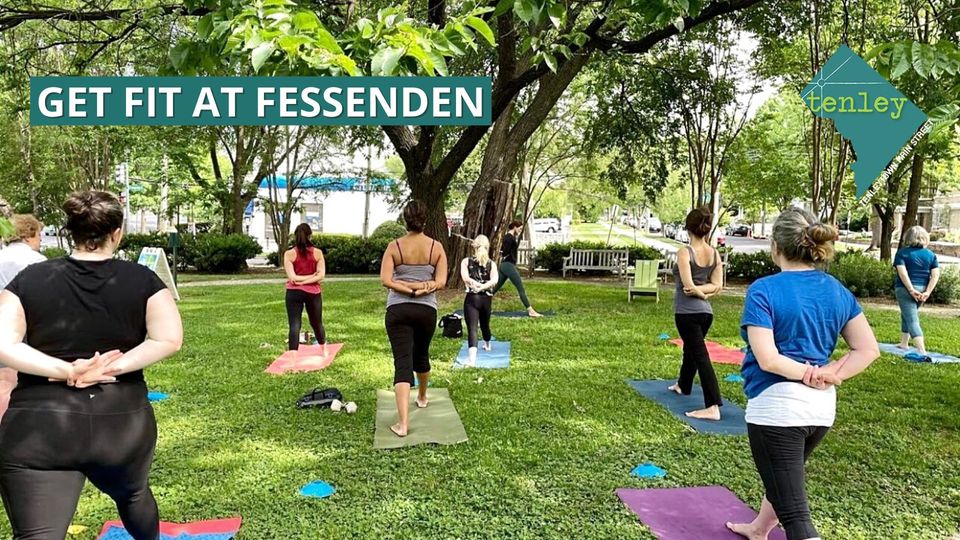 Details
Start:

Saturday, May 21st, 2022

End:

Saturday, July 30th, 2022

Days:

Sat

Time:

9:00 AM - 10:00 AM

Cost:

$15.00
Venue
Fessenden Park
Fessenden Park, Wisconsin Ave. & Fessenden St.
Washington, DC, 20016
Phone:
Join friends and neighbors for low-impact fitness classes at Fessenden Park Saturday mornings at 9 a.m. during the late spring and summer.* These all ages and all abilities classes are taught by instructors from Tenleytown fitness studios, including JTR Jujutsu, Sport & Health, and Well & Wonder. Try out Total Body HIIT, Vinyasa-inspired yoga, self-defense style boot camp, and more! Classes are perfect for fitness enthusiasts, as well as beginners looking to try something new.
Each class is just $15, with all proceeds benefiting programming and maintenance at Fessenden Park. Pre-registration required and space is limited. Click the Schedule tab above for a listing of this season's Get Fit at Fessenden classes and links to register.
Get Fit at Fessenden is presented by Tenleytown Main Street, which seeks to revitalize the park as a community gathering place for all ages. TMS is an official park partner of the DC Department of Parks and Recreation.
*Note: The June 11 class will start at 10 am following the monthly Fessenden Park Clean Up at 9 am.
---
Getting to the park
Fessenden Park is bounded by Wisconsin Avenue, Fessenden St., and 42nd St. The park is equidistance from either the Tenleytown-AU Metro station or the Friendship Heights station, and is located on multiple Metro Bus lines. A Capital Bikeshare station is located at Fessenden Street and Wisconsin Avenue, next to Citibank. Metered street parking is also available.


Inclement weather policy
In the case of rain, the class will be canceled. Registrants will receive credit for a future Get Fit at Fessenden class at the park.


COVID-protocols
Students will be required to self-certify that they are not experiencing any COVID-related symptoms. Protocols will be based upon current public health guidance established by the DC Department of Health. By registering for a class, students agree to abide by protocols in place and to hold harmless Tenleytown Main Street, participating fitness studios, and their instructors.
There is a $15 registration fee for each class. All proceeds support programming and maintenance of the park by Tenleytown Main Street. Please bring a mat and water with you.
May 21: Yoga with Well & Wonder Studio
This vinyasa-inspired class slows things down to focus more on alignment and building a strong foundation. Great for anyone new to yoga or looking for a form refresher.
---
May 28
Memorial Day holiday, no class
---
June 4: BE FIERCE with Sport & Health
Join Sport & Health for a 1-hour session consisting of two 30-minute routines. First up, a combination of martial arts and endurance will unleash strength you never knew you had. Next, enjoy a bodyweight, full-body workout routine that will get your heart pumping and your endorphins running perfectly for your busy life. Great for all fitness levels.
---
June 11 - HIIT It, Don't Quit It with Sport & Health
This High Intensity Interval Training (HIIT) workout will push you past any boundaries you thought you had. Push as hard as you can for small intervals, rest, and REPEAT.
Note: this class will begin at 10 am.
---
June 18: Total Body HIIT with Well & Wonder Studio
Join Jennifer Blackburn for a total body HIIT workout in the park. Well & Wonder's Master HIIT Trainer will guide you through bodyweight strength, core, stability, balance and mobility. Bring a mat, towel and water.
---
June 25
Details coming soon!
---
July 2
Independence Day holiday, no class
---
July 9
Details coming soon!
---
July 16
Details coming soon!
---
July 23: Martial Arts with JTR Jujutsu International
Explore martial arts and basic self-defense techniques with JTR Jujutsu International. This fun class requires no prior martial arts experience and is perfect for all ages. JTR will be giving out prizes for the best students and parents contest.
---
July 30
Details coming soon!