Challenges Facing American Foreign Policy: Do We Have One, Many, or None?
FREE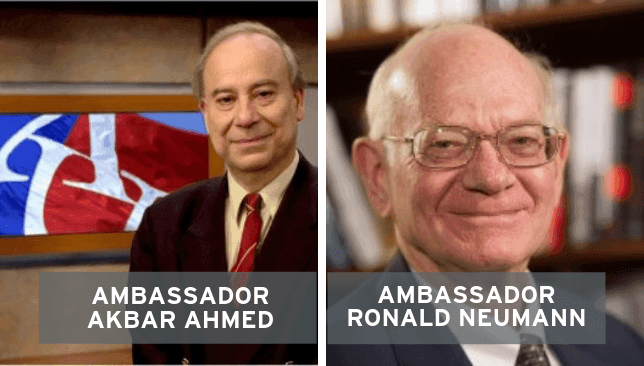 Details
Date:

Thursday, October 3rd, 2019

Time:

11:00 AM - 12:00 PM

Cost:

FREE
Description
AU's School of International Service will host a dialogue between Ambassador Akbar Ahmed and Ambassador Ronald Neumann as they discuss the challenges that American foreign policy faces today. The former diplomats will consider America's priorities in Afghanistan, America's policy toward Russia, and the turbulent trade relationship between the US and China. The ambassadors will accept questions from the audience following their discussion.
RSVP: https://www.eventbrite.com/e/challenges-facing-american-foreign-policy-do-we-have-one-many-or-none-tickets-68295245919
About the speakers:
Ambassador Akbar Ahmed is the Ibn Khaldun Chair of Islamic Studies at American University and is considered the "world's leading authority on contemporary Islam" by the BBC. Journey into Europe, the last book of his quartet of studies examining the relationship between the West and Muslim world, was published by the Brookings Institution Press in 2018.
Ronald E. Neumann was US ambassador to Algeria, Bahrain, and Afghanistan and a Deputy Assistant Secretary of State for the Middle East. As president of the American Academy of Diplomacy he works on explaining diplomacy to Americans and suggesting to the State Department how to improve. He writes and speaks on Afghanistan, to which he returns regularly. He was an infantry officer in Vietnam, the first of the wars he recounted in Three Embassies, Four Wars: A Personal Memoir.