Chesapeake Orchestra Brass Concert to Benefit Those in Need
FREE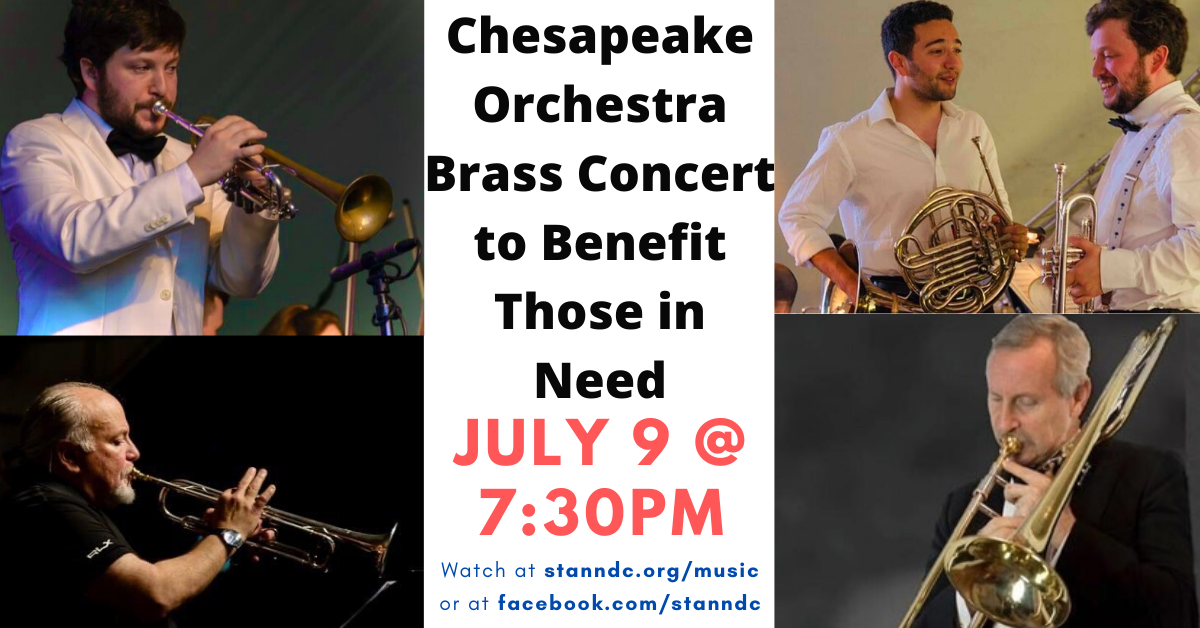 Details
Date:

Thursday, July 9th, 2020

Time:

7:30 PM - 8:30 PM

Cost:

FREE
Organizer
St. Ann Catholic Church

Venue
St. Ann Catholic Church
St. Ann Catholic Church, 4001 Yuma St. NW
Washington, DC, 20016
Phone:
Description
From the comfort of your couch, watch a virtual concert at St. Ann's benefiting the poor of our neighborhood. In conjunction with the Chesapeake Orchestra and Music Director Jeffrey Silberschlag, along with St. Mary's College of Maryland, enjoy a performance with 3 of the Brass-playing Silberschlag family of 17 musicians and trombonist Bryan Bourne.
Program to include works of Handel, Couperin, Lully, Dandriieu, Schubert, Gounod, Bach and others.
Music Director of the Chesapeake Orchestra & Professor of Music at St. Mary's College of Maryland, Jeffrey Silberschlag, joins sons Zachary, the Principal trumpet of The Hawai'i Symphony, and Nathaniel, the Principal horn of The Cleveland Orchestra, with trombonist, Bryan Bourne, former Principal trombone of the President's Own United States Marine Band, and pianist Lior Willinger for an ONLINE concert of Brass and piano music from St. Ann Catholic Church.
These Brass-playing Silberschlags are part of a family of 17 musicians, whose members have held principal positions in The New York Philharmonic, Metropolitan Opera Orchestra, Cleveland Orchestra, Italian National Symphony RAI, Hawai'i Symphony New York City Opera Orchestra - National Co., The Orchestra Now, and The Jerusalem Symphony Orchestra.
TUNE IN ON JULY 9 AT 7:30PM at:
Want to make a gift now? You have 3 options:
1) If you are a St. Ann parishioner and would like your gift to be recorded in your yearly total, make a donation through FaithDirect by visiting stanndc.org/give, and write in the "Notes" section "Concert."
2) Visit stanndc.org/music to make a one-time or recurring donation directly on our website.
3) You can also Venmo @nataliejplumb and write "Concert" in the "for" section.
Your contribution is fully tax deductible.
View this event on our website: https://stanndc.org/events/virtual-recital-at-st-ann-to-benefit-poor-of-parish