Living Green Workshops
FREE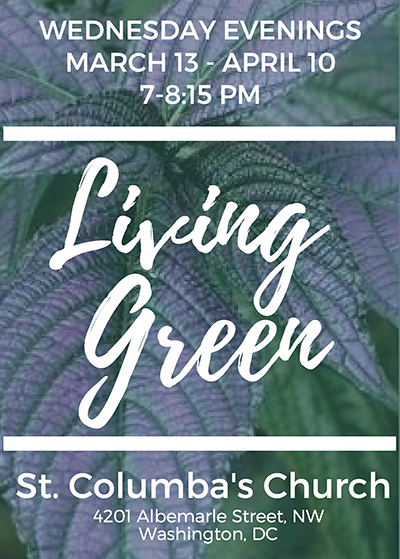 Details
Date:

Wednesday, April 3rd, 2019

Time:

3:00 PM - 4:15 PM

Cost:

FREE



Venue

St. Columba Episcopal Church
4201 Albemarle St. NW
Washington, DC, 20016
Description
St. Columba's Episcopal Church is offering a series of five FREE workshops during Lent on "Living Green." The goal is to provide concrete and practical options to live a more Earth-friendly life. The workshop series will be held on consecutive Wednesday evenings, starting March 13, from 7 to 8:15 pm, covering the following topics:



March 13: The Son and the Sun, a religious perspective from David Griswold, followed by an overview of solar options, with breakout groups for DC and Montgomery County residents.


March 20: Green Homes, a survey of ideas for greening our homes such as energy audits, community solar and zero waste.


March 27: Green Community, ways we can improve our community, such as green investing and low-impact transportation options.




April 3: Green World, what can we do in the larger world, featuring our Honduras project and Solar Sister, an NGO bringing clean energy technologies to East Africa.




April 10: Green Gardens, looking at bird- and bee-friendly plants, composting, rain barrels, rain gardens, pests and pesticides, insect-friendly plants, and perennials.