Mask Force: 1000 By Thanksgiving!
FREE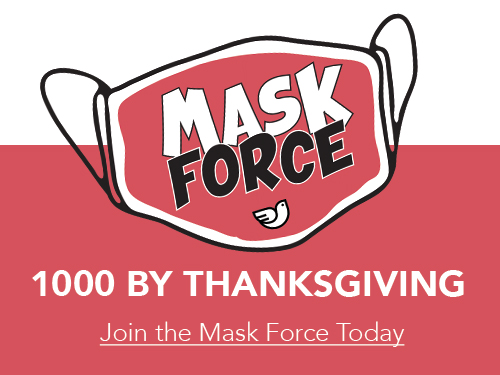 Details
Start:

Tuesday, October 20th, 2020

End:

Sunday, November 22nd, 2020

Time:

11:00 AM - 2:00 PM

Cost:

FREE
Organizer
St. Columba Episcopal Church

Venue
St. Columba Episcopal Church
4201 Albemarle St. NW
Washington, DC, 20016
Description
You don't need to be a member of St. Columba's to help! All are welcome as always!
What: We need 1000 masks by Thanksgiving. Be sure to join St. Columba's Mask Force so we can meet our goal!
Where: Drop off at St. Columba's during our "MaskParade" on November 22, or mail them to St. Columba's Episcopal Church at 4201 Albemarle Street NW, Washington, DC 20016 by November 26.
Why: With over 200,000 people having lost their lives to COVID, with lack of access to affordable healthcare, inconsistent options and opportunities to sanitize and exposure to crowded shelters, the homeless are at considerable high risk.
Who: Each mask will be placed in a bag for Grate Patrol that is handed out to the homeless in the District until all masks have been handed out.