Sippin' at CityDance - Afro Dancehall
Price : $25.00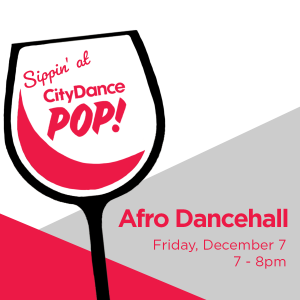 Details
Date:

Friday, December 7th, 2018

Time:

2:00 PM - 3:00 PM

Cost:

$25.00



Venue

CityDance POP!
4435 Wisconsin Ave, NW
Washington, DC, 20016

Phone:
Description
Looking for the perfect way to unwind after a long week of work? Do you ever want to go out dancing without having to deal with the nightclubs? CityDance POP! has the perfect event for you. Join their Sippin' at CityDance monthly workshop where dance will be explored with a glass of liquid courage.
On December 7th, learn choreography to infectious, upbeat and popular dancehall music which originated in Jamaica with a flair of Afro Beat. Learn the steps that inspire many of the current dance moves in Hip Hop videos and culture.
No dance experience required! Bring yourself, your dancing shoes and be ready to have a good time with CityDance POP!
Tickets are $25/At the door $30. Price covers the class and one glass of alcohol. Must be 21 years of age. Register online