Women's Active Self-Protection Seminar
Price : $40.00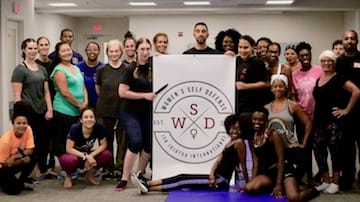 Details
Date:

Friday, October 18th, 2019

Time:

5:00 AM - 8:00 AM

Cost:

$40.00
Website:
Description
Learn evidence-based prevention, protection tactics in this specialized training workshop. The "Active Self-Protection" program gives you critical life-saving skills. By taking control and assuming a primary responsibility role you are prepared to take action against sexual assault, domestic violence, and acts of aggression. This unique program will give you valuable information and effective tools. Are you ready to hold your own if ever attacked?
JTR Jujutsu's - Women's Self-Defense (WSD) program is hosting an annual "Active Self-Protection" program for all women and girls ages 12 and older, at any level of fitness. They invite you, your family, and friends to join us for this educational and live training exercise. You will walk away feeling much more confident and informed on how to make split-second decisions and take action in a dangerous situation.
Their qualified team includes: a former federal agent and combative expert, off-duty DC police officers and self-defense instructors will share educational videos, speak to lessons learned in real events and teach you self-defense applications. Practical training exercises will include kicks & strikes on pads, defensive blocks, escape techniques, improvised weapons and more.
Two sessions available: Session A, 9:00 am – 10:30 am; Session B, 10:30am – 12:00 pm
More information and registration available at https://jtrjujutsu.com/class/womens/
Advance registration is $30; same day registration is $40.