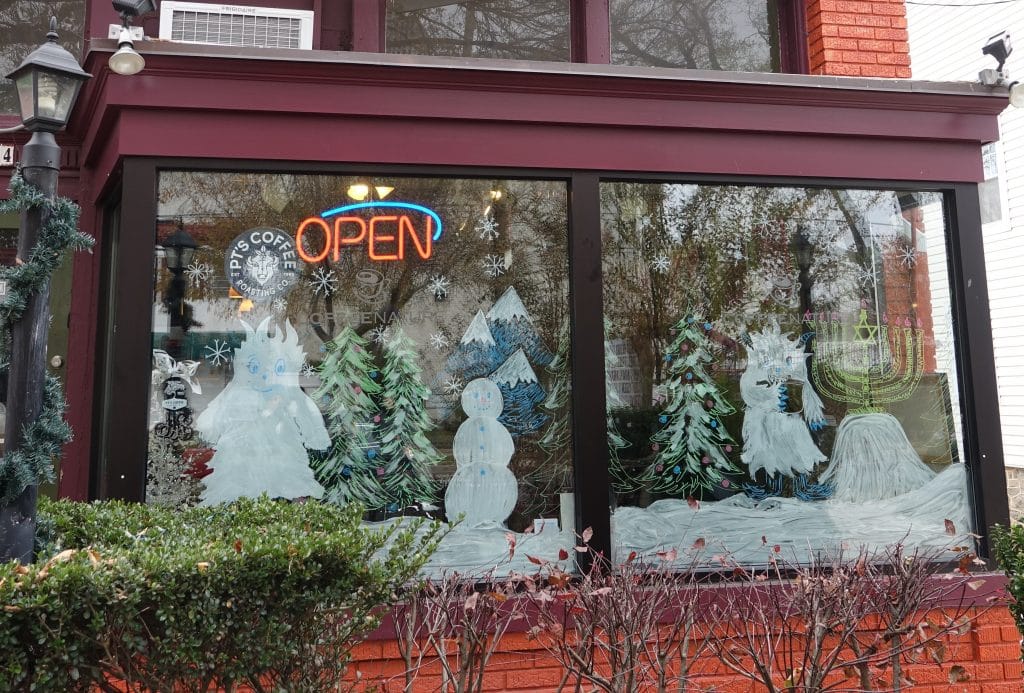 WASHINGTON, DC – Tenleytown Main Street crowned local coffee shop Coffee Nature as the winner of the 2018 holiday window contest on Small Business Saturday, November 24.
For the third year, area shops and restaurants engaged in friendly competition as they decorated their storefronts for Tenley WinterFest and the holiday shopping season. Fifteen businesses created holiday and winter-themed displays, and the beloved Tenley Yeti, a Tenley WinterFest icon, appeared in many of them.
"Tenley WinterFest is a celebration of the spirit of the holiday season and our close-knit community. Business owners' love for this annual event really comes through in their window displays, which are always so creative," said Leigh Catherine Miles, Tenleytown Main Street executive director. "The judges have a tough time choosing a winner, and really everyone is a winner with storefronts that sparkle for the holidays."
Coffee Nature's winning windows featured the Tenley Yeti sipping a latte by a lighted menorah and frolicking with a snowman in front of Christmas trees. The Tenleytown coffee shop not only wins bragging rights, but also a prize package from Tenleytown Main Street valued at $1,000. The prize includes a professionally designed ad and marketing services from a graphic designer and digital marketing expert.
Last year's winner, Middle C Music, earned an honorable mention this year as more of the Tenley Yeti's friends joined the yeti band that won the music store the 2017 prize. A DJ and a bugler added to the trio of yeti musicians that have graced Middle C Music's windows for the past year.
Kengla Flag's impish yetis and flag-themed display also received high marks from the judging panel.
Find a list of this year's window displays at www.tenleywinterfest.org/winter-lights/.
Presented by Tenleytown Main Street, Tenley WinterFest is an eight-day celebration of the holiday season designed to showcase local businesses, community groups, and the neighborhood – all with a unique Tenleytown flair and lots of yetis. What began more than a decade ago as a small student craft market has grown into a neighborhood-wide festival, including the Yeti Scavenger Hunt, Winter Feast restaurant week, and Winter Market.