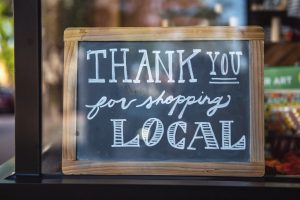 Now, more than ever, it is critical for businesses to communicate directly with customers. Customers want to know about available services and products and how they can support local businesses. Here are eight steps every business should take now to engage customers, plus a critical bonus tip at the end.
1. Send an email directly to your customer mailing list.
Thank them for their support during this difficult time. Highlight any changes to operating hours or services. Provide ways they can continue to shop or dine that require low to no contact: order online, call ahead for pick-up, purchase gift cards, schedule advance appointments, contribute to business or employee relief fund, etc.
2. Add a post to the top of your website
Include clear, concise information about current operating hours and how to place pick-up or delivery orders, if available. Include a link for customers to subscribe to your email list for updates. Let them know how to find you on social media. Don't make website visitors hunt for this key information.
3. Add a Frequently Asked Questions (FAQ) page to your site
Provide answers to frequently asked questions related to the current pandemic. Reiterate your operating status and ways customers can support your business. Let them know if you are supporting COVID relief efforts. Explain how you are preparing to safeguard customers when you reopen.
4. Pin a social media post to the top of your accounts
Pin a post with key information for customers to the top of your Facebook, Twitter, and/or LinkedIn pages. On Instagram, update your profile description with your status, hours, and a link to your website. Schedule regular posts to keep customers engaged. Share helpful tips. Don't be afraid of video. Remember to tag Tenleytown Main Street (@TenleytownMS) so we can amplify your messages.
5. Update your directory listings
On Yelp and Google My Business, review your operating hours, update your status, and provide information to customers searching for you online.
6. Consider offering a special promotion
A promotion can drive sales now and encourage repeat business when operations return to normal. For example, offer customers who spend $100 now a coupon to get 10% off when they make a purchase this summer or fall.
7. Update your business answering message.
Yes, customers do still call ahead. Don't leave them wondering whether you are open.
8. Add signage to your storefront.
Let customers know if you are open, how they can contact you, and what your hours are. Make sure signs are large enough for people to read from a distance. Several DC companies are offering free signs to businesses; find them here.
And one more critical, bonus tip: BE CONSISTENT
Make sure the information you share on your website, social media, directory listings, and emails aligns. Double check your operating hours, pick-up and delivery options, products, and services. Consistency builds confidence among your customers.
---
Please also update Tenleytown Main Street on changes to your business operating hours and services, as well as delivery and order ahead options. We regularly publish updates on our website, mobile app, and social media channels to enable community members to safely continue supporting our local businesses. Tag us on social media or send us an email.
If you need help updating your website, directory listings, or managing your digital communications, TMS can help you. Free, one-on-one assistance provided by small business experts is available to Tenleytown businesses. Email info@tenleytownmainstreet.org or call 202-362-1815.
For more small business resources related to COVID-19, visit tenleytownmainstreet.org/covid-19-news-updates