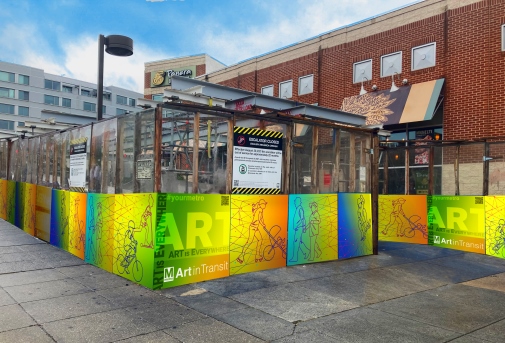 Tenleytown Main Street, in partnership with WMATA's Art in Transit program, announces the selection of artwork by Tamao Nakayama for a temporary public art installation at the Tenleytown-AU Metro station. Her work will be be printed on Coroplast panels that will be affixed to the wooden construction barricades surrounding the east station entrance during the ongoing escalator replacement and repair project.
The series of four repeating designs, entitled Community in Motion, celebrates the healthy and active community that has grown up around Tenleytown. Thin lines and bold changes in color put the people in motion. The artwork represents a vibrant town that is made for and supported by people of all ages and cultures. Originally from Japan, Ms. Nakayama is a minimalist abstract artist who has previously exhibited locally at Target Gallery and Open Spaces Art Gallery.
Community in Motion, shown in a rendering above, will be installed on or around November 4, 2022, and will be on display through August 2023. The rendering may not fully reflect the final installation. The partnership with Art in Transit is part of TMS's Public Art Initiative.