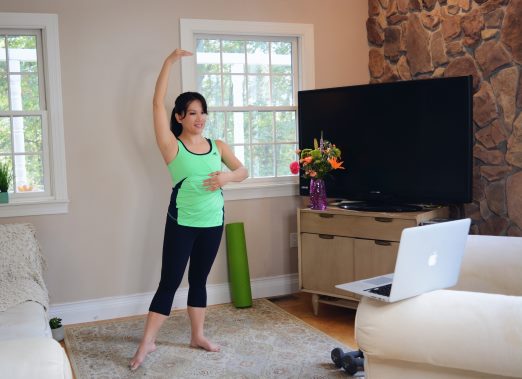 Looking for new ways to enjoy your favorite pastimes while social distancing? Need creative activities for the kids while at home? Tenleytown businesses have an array of online classes and events suited to any age or interest. Fitness, music, dance, book clubs, story time, educational videos, and more are all available. And for the adults, you can even turn your nightly Zoom gatherings into happy hour with deliveries from area restaurants.
---
Get Your Groove On
Now's a great time to dust off those dancing shoes and brush up on your moves. Jazz, ballet, hip-hop, and even belly dance classes are all available from Tenleytown dance studios online. Check out class schedules for CityDance POP! and Sahara Dance.
If you're more of a casual, get-on-the-dance-floor-with-friends dancer, CityDance's "Sippin' with CityDance" series might be just your speed. Every Friday evening, explore iconic dances from everyone's favorite music videos. No dance experience required and Sippin' on your beverage of choice is highly encouraged.
---
Stay Fit
Tenleytown has an amazing health and wellness community, and they want to help you stay mentally and physically fit during social distancing. Take yoga from CorePower Yoga, Haute Bodhi, or the Washington Yoga Center. Practice mindfulness and meditation with the Center for Mindful Living. Keep up your Pilates practice with Club Pilates. And if you are a member of Sport & Health, you can take free online fitness classes, too.
---
Pick Up an Instrument
Middle C Music offers their full range of music classes online, and they have instruments, accessories, and sheet music available for contact-less pick-up or delivery. And if you sign up now for online lessons, you'll receive a free method book. Check out available lessons here. As a bonus, Middle C Music is sharing performances by their music teachers on their website.
---
Join a Book Club
Sahara Dance offers a "Sunday Brunch Book Club" (BYO brunch and/or beverage). Read and discuss books related to Middle Eastern dance and written by dancers. Read the selected book in advance, then share your thoughts and discuss the book with other readers each month via Zoom. Register online; no fee to participate, though donations welcomed. Upcoming books include:
The Voice of Egypt: Umm Kulthum, Arabic Song, and Egyptian Society in the Twentieth Century by Virginia Danielson
Palace Walk by Naguib Mahfouz
A Trade Like Any Other: Female Singers and Dancers in Egypt by Karin van Niewkerk
The Woman from Tantoura by Radwa Ashour
---
Just for the kids …
We know if can be tough to keep kids who are missing friends and school activities engaged at home. Fortunately, local businesses and organizations have online activities just for kids:
---
Just for the adults…
Bring Happy Hour home. DC restaurants are allowed to sell wine, beer, and batched cocktails that you can purchase with your carry-out or delivery. Margaritas and chips and salsa. Wine and crepes. Beer and pizza. Pick your pairing. Find restaurant delivery options here and a complete list of Tenleytown restaurants here. Call ahead to confirm offerings as not all restaurants currently offer adult beverages.
Have a favorite at-home activity from a local business that we missed? Let us know at info@tenleytownmainstreet.org.