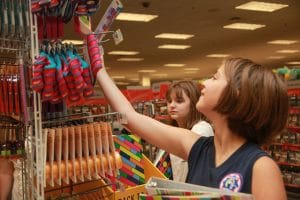 It's August, which means students will soon be filling Tenleytown's sidewalks – and local businesses. More than 26,000 students live, study, shop, and dine in the Tenleytown area. American University undergraduate, graduate, and law students comprised nearly half that number. Nationally, the back-to-school shopping season is second only to the winter holiday season, according to the National Retail Federation, and NRF anticipates another strong buying season in 2022.
Reuters reports that: "Retailers are set for the strongest back-to-school shopping season on record," while Deloitte's research shows that inflationary concerns won't dampen spending. Further, Deloitte anticipates parents will spend more time shopping in stores rather than online, which is great news for small businesses.
Follow these tips for capitalizing on the student – and parent – market:
Define your target audience. Are you trying to reach secondary students, college students, parents, and/or teachers?
Create shopping lists that make it easy for customers to purchase back-to-school essentials, such as school supplies, clothing, dorm furnishings, tutoring services, etc.
Think creatively about your niche in the market. Even businesses that aren't in the traditional school supplies or clothing markets have opportunities to reach customers. For example, hobby businesses can capitalize on parents who have more free time with kids in school or who are looking for new afterschool activities for their children.
Market early and regularly – and tailor your message to each of your target audiences.
Customize your online and social media presence to highlight your back-to-school offerings.
Back-to-school season can also be a boon for dining establishments. Whether a snack after school, coffee to fuel study sessions, a night out with friends, or a special dinner paid for by mom and dad, the student market offers a lot of opportunities for local restaurants. Back-to-school specials, student nights, and marketing tailored to students and their parents can increase revenue at the end of summer, and keep customers coming back throughout the year.
If you are looking for ideas or assistance, give TMS a call at 202-362-1815 or email info@tenleytownmainstreet.org; our in-house experts can provide customized marketing support. And don't forget to share your specials, promotions, or events with TMS. We'll help you get the word out to potential customers.