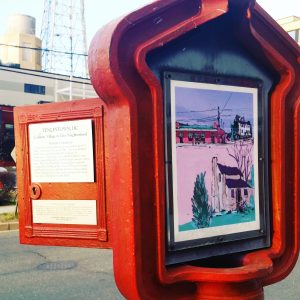 Tenleytown Main Street continues our popular walking tour series with "Art on Call." Enjoy this multimedia tour virtually on your computer or take it with you on your mobile device for a self-guided in-person tour filled with history and trivia about the neighborhood.
In the early 2000s, Cultural Tourism DC created "Art on Call," a program to restore the city's abandoned police and fire call boxes as public art. In Tenleytown, 11 call boxes feature artwork by local resident Lena Frumin illustrating the neighborhood's history, which dates to the late 1700s. Using the call boxes as a jumping off point, TMS has updated and expanded upon the historical markers and included additional historical images for our tour. Step out online or in-person to learn more about Tenleytown's evolution from its earliest days to the modern era.
TMS thanks the Tenleytown Historical Society and artist Lena Frumin for allowing us to adapt, edit, and republish their content for this tour.
Click here to access the tour on your laptop or take it with you on your phone or tablet. To use on your mobile device, download the free Google Earth app, available in the App Store or Google Play. For more tours featuring local history, art, and hidden neighborhood gems, visit tenleytownmainstreet.org/tenleytown-walking-tours/