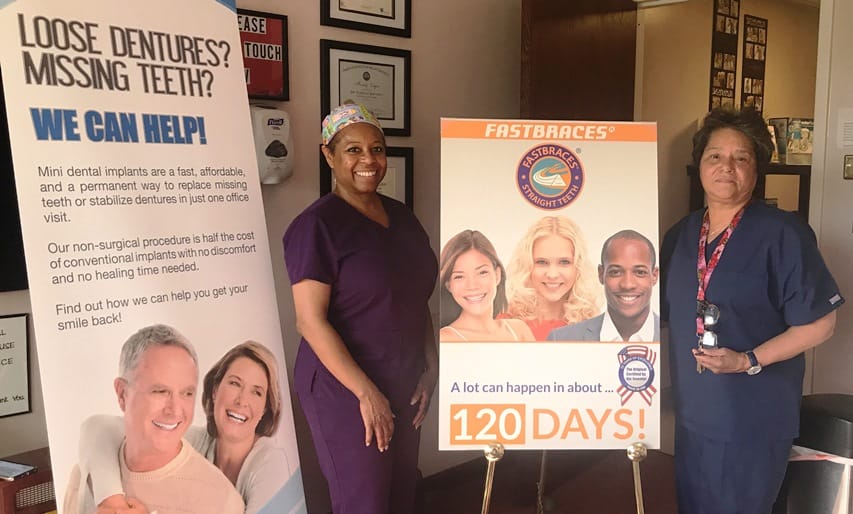 On October 20, 1997, Cheryle Baptiste, DDS, PLLC, opened her business on the second floor at 4839 Wisconsin Avenue, NW.
More than 20 years later, "Dr. Cheryle" daily fulfills her intention to run a patient-centered practice, one that looks not just at the teeth but at the whole person.
The office routinely takes blood pressure and does other types of screenings. "We not only straighten, replace, restore, and create function and comfort for teeth, but we also educate," Baptiste says, noting that dental issues can be associated with conditions including heart disease, diabetes, and even memory problems.
"It's rewarding to see someone smile once we have straightened their teeth or placed implants that allow them to chew and taste their food," Dr. Baptiste says.
In keeping with her educational mission, Dr. Baptiste has helped women have healthier babies through pre-conception visits, during which women considering having children can get previously undiagnosed conditions treated. Gum disease in mothers has been linked to low birth weight, but through treatment, "we have seen improved outcomes in infant births," Dr. Baptiste says.
"We are a family in the Tenleytown community," she says. "My son, Adrian, was born December 1996 and attended Janney, Deal, and Wilson. My daughter, Sylvia, runs the business end of the practice. My sister, Brenda, is the professor of the periodontal department here. Tracie and Charlene keep the clinical end precise. This is where we spend the majority of our waking hours, and we feel welcomed!"
For an appointment or for patient education materials, visit her website or call (888) 330-6912.
---
In honor of Small Business Week, Tenleytown Main Street is highlighting our neighborhood businesses and their stories. Want to share yours? Click here to tell us how you got started and what motivates your business.