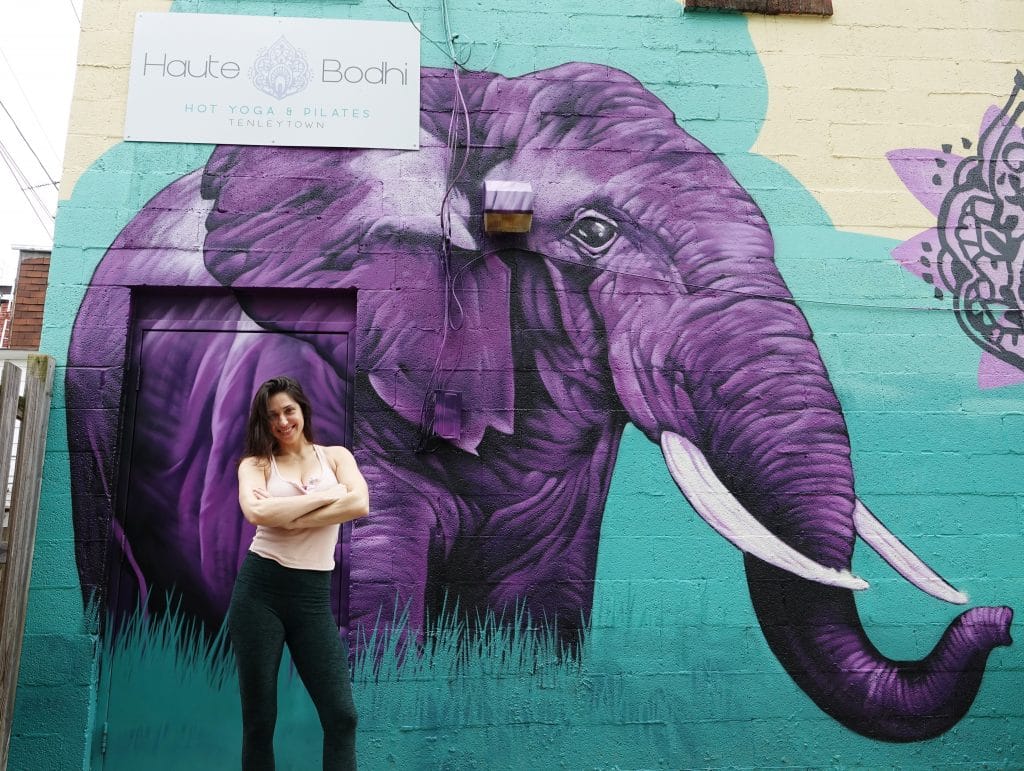 At the north end of Tenleytown, you'll notice a couple windows at 4908 Wisconsin Avenue that always seem opaque with fog. Look for the purple elephant in the rear alley and you'll find the region's longest-standing hot yoga studio.
Haute Bodhi (formerly Bikram Yoga Tenleytown) has been the steamy gathering place of choice for the local fitness community for 18 years. In the summer of 2016, owner Maggie Doctors took the helm of the rebranded studio. Full of energy, intention, and kindness, Doctors is building on the strong foundation laid before her. And as a 2017 recipient of a Great Streets Small Business Grant, which helped build out new, efficient heating systems and facilities, she's well on her way.
Doctors sees great energy in the Tenleytown neighborhood with new businesses coming and community events becoming more regular. She's excited to ride the wave over the coming years. Under her lead, the studio's team of experience instructors will continue to guide yogis – young and old, experienced and novice – into the world of yoga. Doctors' mission is to "expose as many people as possible to the practice of yoga, mindfulness, and total body wellness." With a robust schedule of classes and programming, Haute Bodhi will surely continue to be a positive asset for the community for years to come.
For a schedule of classes, visit www.hautebodhi.com
---
In honor of Small Business Week, Tenleytown Main Street is highlighting our neighborhood businesses and their stories. Want to share yours? Click here to tell us how you got started and what motivates your business.