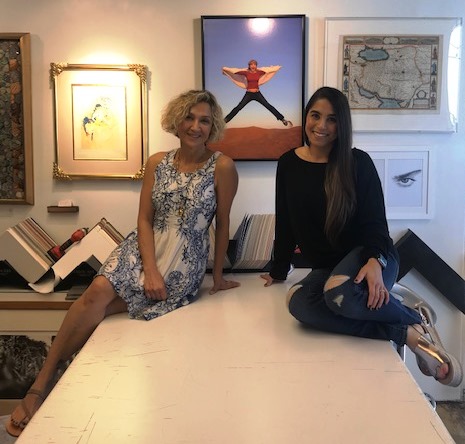 Matin Dibacco and her former husband Abbas Bahmani arrived separately in the United States from Iran as children, Abbas initially as an exchange student in Savannah, Georgia and Matin with her family in Montgomery County, Maryland. They began their journey together and in business after meeting here in the States.
Abbas, a college art major, artist, and lover of fine architecture and design, became a partner in a framing business in 1982. After learning the art of the trade, he formed his own company, Preservation and Framing Services, four years later in a small property in Rockville. In 1986, the business expanded to a larger location in Rockville and a new shop on Connecticut Avenue.
Just a year after opening the Connecticut Avenue location, Abbas and Matin had the opportunity to move to Tenleytown, where the shop has remained for the past 22 years. A true family business, their daughter Parisa Qureshi joined the company as business manager and designer because she believes in the business her parents built over more than three decades. 
The team at Preservation and Framing Services relishes accepting the challenge of a complex work of art, be it an oil painting, watercolor, a simple pair of ballet shoes, a child's artwork, or a precious memorial flag. After 36 years in the business, they have satisfied multitudes of clients. If you have something special to frame, take a look at their website to see how they can assist you, give them a call, or better still, visit their shop. New clients and old friends are always welcome at Preservation and Framing Services.
Preservation and Framing Services is open Tuesday through Saturday, 11 am to 5 pm, at 4901 Wisconsin Avenue, NW. Find more information about their services at www.preservationandframing.com.
---
Tenleytown Main Street is highlighting our neighborhood businesses and their stories. Want to share yours? Email us at info@tenleytownmainstreet.org to tell us how you got started and what motivates your business.