Washington, DC – On Tuesday, January 22, select Tenleytown restaurants will begin offering weekly discounts for local students and educators.  Organized by Tenleytown Main Street, the "Tenley Tuesdays" promotion is aimed at Tenleytown's extensive educational community. Students, teachers, administrators, and other school staff are eligible for the discount program. They simply need to show their current school ID to take advantage of participating restaurants' promotions every Tuesday.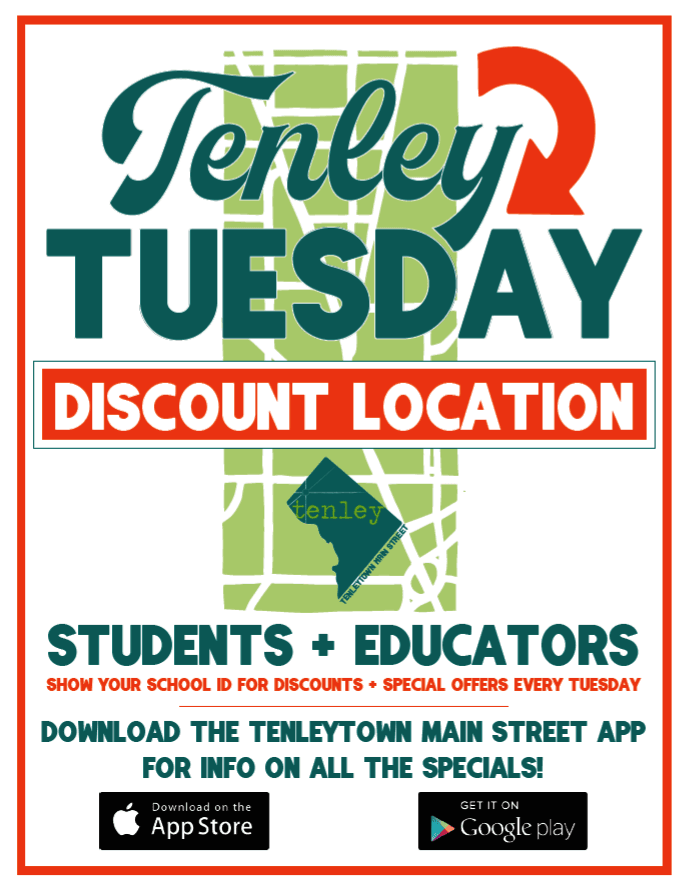 Tenleytown is known for high-quality public and private educational institutions, ranging from pre-schools through post-secondary and law school. More than 24,000 students attend school within a mile of Tenleytown, a number that will continue to grow when Georgetown Day School completes construction of a new elementary and middle school adjacent to its current high school on Davenport St. Currently, Tenleytown is home to 11 schools, including pre-schools, elementary, middle, and high schools, American University, and the Washington College of Law.
"Whether they live and work in the neighborhood year-round or call Tenleytown their home away from home during the academic year, we value students, educators, and school staff as members of our community," said Leigh Catherine Miles, Executive Director of Tenleytown Main Street. "We hope the Tenley Tuesdays program makes them feel welcome in our business district and encourages them to enjoy the many dining options Tenleytown has to offer."
The pilot Tenley Tuesdays program will run through the end of the school year. Tenleytown Main Street anticipates more restaurants and retail businesses will join the program as it continues into the spring. Any Tenleytown business interested in participating may contact Tenleytown Main Street at 202-362-1815 or email info@tenleytownmainstreet.org.
Currently available promotions include:
Bandit Taco, 4629 41st: 15% discount on purchase (cannot be combined with other offers)
Beefsteak, 4531 Wisconsin Ave: Free juice with purchase
Chick-fil-A, 4505 Wisconsin Ave: Free large fries with purchase
Crisp & Juicy, 4533 Wisconsin Ave: Buy any sandwich, get a free chicken sandwich from 2 to 5 pm.
District Taco, 4600 Wisconsin Ave: Free fountain drink with purchase
Muncheez, 4600 Wisconsin Ave: Get any sandwich/bowl with a drink for $8
Olive Bistro & Café, 4619 41st St: 15% discount on purchase
Pete's New Haven Style Apizza, 4940 Wisconsin Ave: 15% discount on purchase
SeoulSpice, 4600 Wisconsin Ave: Free fountain drink with any entrée
For an up-to-date list of Tenley Tuesdays offers, visit the Tenleytown Main Street website or download the free Tenleytown Main Street mobile app (available on Google Play and in the App Store). The app includes a searchable business directory, calendar of local events, and listing of area merchant specials.