Tenley Bucks: A new way to support local businesses
Shop local. Dine local. And now gift local! Purchase Tenley Bucks e-gift cards for use at participating shops, restaurants, and other businesses within Tenleytown Main Street – there's something for everyone! It's an easy way to support local businesses and keep dollars in our community.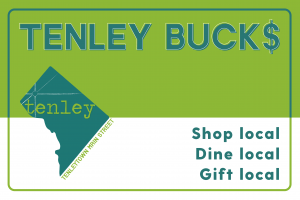 Support Tenleytown shops, restaurants, salons, and other businesses with the purchase of a Tenley Bucks gift card. PURCHASE HERE
Check out the list of participating businesses HERE. New businesses signing up daily!
---
Who should buy Tenley Bucks?
People who want to give a gift card for birthdays, holidays, or just because

Parents as an easy way to give their kids spending money

Realtors to welcome new home buyers or tenants

PTAs as teacher appreciation gifts and for school raffles

Companies for employee appreciation or contest prizes
The possibilities are endless, but the dollars stay right here in Tenleytown.
---
How does it work?
Select the gift card amount, from $25 to $250. Enter the recipient's email address and phone number, write a custom message, pay and send! They'll receive the card in their email and via text, and can check the balance on their smartphone 24/7 and can use at participating businesses in Tenleytown.
---
How do I redeem Tenley Bucks?
If you're lucky enough to receive Tenley Bucks as a gift, simply present your digital card at any participating Tenleytown business using your mobile device or a print out. It's processed like a credit card. Make sure not to charge more than the gift card balance, otherwise the transaction will be declined. Your phone will show the current balance or you can check your balance online at https://c.yiftee.com/check-gift-balance.
To purchase something that exceeds your gift card value, ask the cashier to split the bill between your gift card and another payment method. Because this is a pre-paid card, tips cannot be added, but we encourage you to tip in cash or through another payment method.
Tenley Bucks must be redeemed in-store or over the phone. They will not work with third party delivery services.
Remember, as long as your e-gift card has a balance remaining you can use it anytime at any participating business.